Testimonials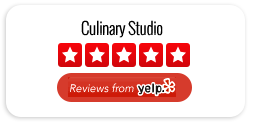 This past weekend I had an engagement party for my son in our backyard. I am new to the Huntington area so I chose The Culinary Studio because it was local, the reviews I read online were good, and the photos of parties they catered looked beautiful. I had no idea how amazing they truly are. Our guests could not stop talking about how good the food tasted, how much food there was and how attentive the staff was. Mary and Justin were easy and professional to work with. I could not have asked for anything more. Thanks to all the staff at The Culinary Studio for all the hard work and amazing food.
My family has gone to Culinary Studio for many years to pick up dinner and lunch and when it came time to get married we knew exactly who to go to. After all, it is all about being a great host and this place has the BEST food in NY. The day went great and the team couldn't have been more attentive and friendly to both us and our guests. Rosalie checked on myself and my family constantly, making sure we were being taken care of. During cocktail hour, servers were everywhere, literally everywhere, serving up everything from delicious Lobster Rolls to Chicken Sate with Peanut Butter Sauce and so much more. Guests were running up to me left and right raving about the hors d'oeuvres and saying they have never tried so much great food in just one hour. Guests then were welcomed into the reception with a plated salad topped with CS famous Golden Beets. Again, guests were raving. Dinner was then served family style, something so unique and beautiful: Lobster tail, Steak and two sides. I had family members coming up to me while I was still eating and telling me that they have never had such fine food in their entire lives. Days later, I am still getting texts about the food. Do your guests a favor, and use CS for your wedding like I did.
Culinary Studio catered my daughter's wedding at our beach club and did a fabulous job! The wedding was everything I wanted it to be with incredible appetizers, a delicious main course and excellent service. The professionalism of Mary and Justin Spoto helped me to enjoy the wedding and not worry about any details. They know exactly how to host a lovely event as they have a lot of experience doing just that. Many of the guests commented on how nice and friendly the bartenders and waitstaff were and how seamless the event seemed. I would highly recommend Culinary Studio for any event both large and small, and I would use them as often as possible.
The Culinary Studio has made the last two in-home events we have had a complete breeze!! They are incredibly professional and their food is delicious. But more importantly they take all of the stress off of you as the host/hostess. They will clean, cook, and clean again. Put away all of your leftovers and do it all with a smile on their faces. Their pricing is fair, the food excellent, and the service beyond reproach. I 100% recommend using them for any event and will be personally using them for all my future events.
I used Culinary Studios to cater my company's summer outing and they did a fantastic job. The food was great – grilled steak and vegetable burgers were among the best I've ever had. The staff was beyond polite and attentive; more than I could have asked for. All my guests were very pleased and impressed with the service. Thank you again for making me look like a rockstar!
i'm not from the area so our friends recommended we check out the culinary studio to cater our wedding on the beach – and wow, we were so impressed – they are amazing – not only did the food meet my chef brother & sister's approvals upfront, the menu was perfection –
but they coordinated everything for us, from the tent, to the tables/linens & Rosalie was there the whole day & night of wedding to supervise everyone – i really felt so lucky not to worry about anything! they knew exactly how to handle the beach set up, with minimum electric & space – and our guests raved about the food long after, so i highly refer Justin & Mary to cater any affair – look forward to using them again!
outstanding fish, shell fish and service!! We got crabs by the bushel and lobsters were cooked to perfection
we are so thankful that the culinary studio came into our lives. Our thanksgiving dinners have never been so delicious. everything is fresh and delicious. mary and justin are the sweetest and the their love for food is evident.
Mary and the Culinary Studio were absolutely wonderful! They catered my daughter's wedding for over a hundred, family style, outdoors in a tent – clearly not the easiest of working conditions, but it went flawlessly. The setup was not easy, because we had collected our own china, wineglasses, lanterns and tablecloths, plus made the centerpieces – but Mary was great at putting it all together.The seared tuna was better than any I have had in any restaurant. Even now, a month after the wedding, everyone of the guests comments on how wonderful the food was. You cannot go wrong with Culinary Studio.
My husband and I have used Culinary Studio in Huntington for all of our special events going back more than 10 years. Mary and Justin and their wonderful staff have always provided us and our guests with exceptional food, extraordinary service and thoughtful and caring advice and planning to help make each party, wedding reception, barbecue, Holiday gathering etc. a memorable occasion. Their excellent reputation for catering and in house commissary take out foods, is absolutely deserved. The food is creative, delicious, beautifully presented and served with competence and flair. We recommend them most highly.
We needed a caterer for our daughters bridal shower. We live in huntington area and decided to shop locally a friend recommended we try culinary studio. From the moment I walked in I new this was the place for us. I liked the way I was treated, friendly , personal, knowledgable and great food choices. One stop shopping, linens, tables, tents and superb tasting food.
The day of the shower they were setting kitchen, flowers, tables, chairs , linen and any task I needed help completing. Servers and service were impeccable. And then came the delicious eye pleasing food that drew complements and accolades from each and everyone of my guests. Culinary studios created an amazing event that allowed me to enjoy my party, friends and family. We now have Mary and her staff on speed dial.
Had a bridal shower in my backyard for 45 ppl and culinary studio was wonderful! The food was great, the servers helpful and unobtrusive. They make an amazing chick pea dip that everyone was raving about and the coleslaw is to die for. Everything was easy, easy and quite wonderful. And then best of all, they cleaned up and disappeared. This was the easiest party I have ever thrown. I will def use them again!
I needed a caterer for a memorial service party. My daughters and I used to go to the Culinary Studio while they were in High School all of the time, when we wanted unique and delicious food. So of course I decided that I needed to put the Culinary Studio on my list of possible choices. It quickly became clear by the choices, value and responsiveness that the Culinary Studio was going to win the beauty contest. I have so say that everything went perfectly and everyone at the event commented on the quality and variety of the food. My only disappointment was that there wasn't enough leftovers to feed me for the rest of the week. And this is not to say that anyone didn't get enough, we did. I just loved the food. Next time that I need a catered event or if someone asks me who to go to for theirs the decision is an easy. If you want to be happy choose the Culinary Studio.
If I could give them 100 stars I would!! We used the Culinary Studio to cater our wedding and people are still talking about how great the staff and the food was! Our wedding was well over 100 people and Mary, Justin and the entire staff did an amazing job! From the first time we sat down with Mary, to the food tasting (which I have a lot of food allergies and I ate like a Queen), to the day of the big event they helped us and took care of every little detail.
The day of they were all phenomenal, they helped me with all the last minute details and when our wedding cake arrived an hour before the start of our wedding it was not at all what we had wanted and I was about to burst into tears when Mary and Rosealie sprang into action! They asked me what I wanted it to look like and they took some of the extra fresh flowers we had and when I came back into the room the cake looked exactly as we had wanted it to.
I did not think they were pricey and like I said the food was beyond delicious and there was a ton of it!! They packed all the extra food up very nicely for us and at the end of the wedding they broke everything down and placed it neatly in a pile for the rental company to pick up the next day. Our wedding was long, 7 hours to be exact and they came an hour early to finish setting up and let me tell you everyone on their staff including Justin and Mary were just as pleasurable and helpful as when they started. They definitely made our wedding a huge success and made it so much more then we could of ever dreamed of!
Our wedding was in May, and we had met with Mary & Justin sometime in December. For the months between our first meeting, and the wedding, I cannot say enough positive things about how easy it was to communicate with them. Any questions or concerns I had, they would talk me through it and provide the help or guidance I needed. At the time we did not have a vendor to supply us with tents, tables, chairs, etc. I gave The Culinary Studio a call and Mary went out and got me a quote from a vendor for us. Some of our family needed to have special dishes, due to health reasons, and those guests were served special dishes. Throughout the whole process I could count on and trust Mary and Justin to tend to our needs as well as ease our minds when things got a little hectic. On the day of the wedding the staff helped put together the center pieces, as we were rushing to get everything done, and made sure that everything was perfectly set up. The staff was very attentive throughout the whole day, and honestly were just a joy to have. Everything went so smooth, and after all was over; both sides of the family had nothing but great things to say about the food and the service. Thank you for everything Mary and Justin! You made our day a memorable one, and kudos to your staff as they were nothing short of amazing. If I ever needed to have another event catered, I would not hesitate to give The Culinary Studio a call.
Culinary Studios catered our 200+ wedding and 150+ rehearsal dinner during the very busy summer season. Mary and Justin were extremely helpful, flexible and patient throughout the entire planning process and event. The food was delicious – we are still hearing rave reviews from our guests weeks later. Their staff was very professional, kind and extremely hard-working. I highly recommend Culinary Studios for any event! Their service is very personal and top notch.
Culinary Studio just catered our daughter's wedding on the night of 7/29/17. The wedding was held in our yard and we had 130 guests; no small undertaking. The food was fabulous, from hors d'oeuvres to dessert and the staff was beyond helpful. Mary and Justin were professional and easy to work with. They followed up two days later to be sure that all went well. I would not hesitate to recommend them. Fabulous job!!!
What an amazing night we just had with The Culinary Studio. Everything from appetizer, BBQ, dessert, staff, and clean-up was truly amazing. First time finally enjoying my party. Thank you, Mary, for an amazing night. We will never forget this and will totally recommend you to everyone. First class service! Thanks!